Australian Essential Oils and Botanical Gifts is an Australian company that believes in supporting Australian FARMERS.
We are proudly Australian, just like our native Australian Essential Oils which are grown right here in Australia: Single Origin, Botanical Certified Essential OIls.
For many years, we have travelled to Australia and I am passionate about all things Australia, from the mountains to the sea and desserts between.  Our great southern land has such unique Fauna and Flora!
Growing up in a country town on the other side of the Blue Mountains in NSW, I heard many stories and tales about early explorers and bushrangers, and visited many a monument of significance as a testament of the 'good old days'.
Yet, it was that distant blue haze, the sight of silent majestic trees and that certain smell of our Iconic 'native' aromas that captured my heart.
My Introduction to Native Australian Essential Oils
My grandmother never let me leave home without two trusty bottles of 'cure': one bottle of Eucalyptus and one bottle of Tea Tree, native Australian essential oils. These two Australians are in the top 5 Essential Oils of the world, yet there are many unique varieties of both – for example Lemon Tea or Lavender Tea Tree (Rosalina).
Over time other species have been discovered yet the world has little awareness of the wellbeing properties of our unique native Australian essential oils.
Later travelling to and from Sydney, I longed for the smell of the trees. Today, my two trusty oils have become part of a collection of over 30 beautiful, beneficially healthy Australian essential oils. "Our trees and bushes, grown in our country, under our sun, in our climate and in locations where they too are happy and healthy."
100% Pure Australian Made Essential Oils
Some are harvested from the wild  – the true Australian bush essential oils;  while others are ethically farmed for sustainability, passionately produced by Australian farmers and exported worldwide.
Everyone's journey is personal and we all heal in different ways. With this in mind, it is our aim to share our knowledge with as many people as possible.
It is our endeavour to educate people about the history and benefits of Native Australian Essential Oils.
Australia's gifts from NATURE purify the air and enhance our state of well-being.
We describe our well-being as balance within the four pillars of health:
Mental, Physical, Emotional and Spiritual
Our sense of smell goes straight to the brain and affects our foundation in all four pillars of health.
We invite you to join our journey to Health & Wellbeing and to "UN-LOCK THE POWER of SMELL".
There is a bit of history and some trivia along the way. It is a pleasure for us to bring it to you.
For it's when the hills look blue and our eucalypts sway,
we hear that certain sound and then,  "that certain smell."
For it is then, we truly know the "Spirit of Australia."
Thank you for visiting Australian Essential Oils and Botanical Gifts.
With Love and Gratitude Jenni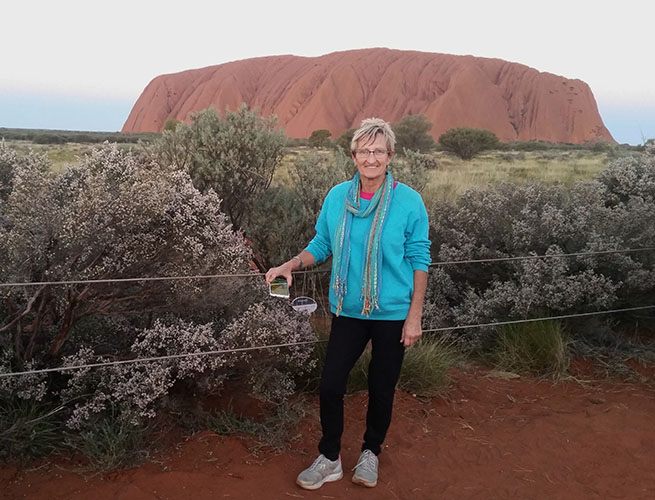 Jenni at Uluru, the largest sandstone monolith in the world. Right in the heart of the Northern Territory's arid "Red Centre"
The smell of the lemon ironbark is so relaxing and I received it on Friday the 19th of may and I'm glad for cause it's starting to get rid of a headache and might even finally give me a good nights sleep.
Shannon H.
Jenni has excellent knowledge on Australian essential oils and follows her intuition when creating amazing blends!
Trish Nash.